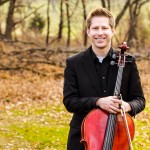 Photo by Britt Olsen-Ecker
Biography
Tim Thulson is a cellist from Alexandria, VA, performing frequently in chamber, solo, and orchestral contexts both near home and abroad.
Mr. Thulson is a core member of, and serves as principal cello for, the Ars Nova Chamber Orchestra, Washington, DC's unconducted orchestra. In this capacity, Mr. Thulson has presented both orchestral programs and a wide variety of small-ensemble chamber works. Chamber music is an area that is particularly meaningful for Mr. Thulson, and Ars Nova provides an excellent platform for both the performance of established chamber repertoire and for the innovative application of chamber techniques within the full orchestra.
Recent solo work has included premieres of Levan Iordanishvili's "Character" and Armando Bayolo's "Buen Viaje" for unaccompanied solo cello, as well as Nicholas White's "In Lege Domini."
Mr. Thulson serves as cellist for the contemporary classical-focused Great Noise Ensemble. Concerts include Louis Andriessen's "La Commedia" for the National Gallery of Art, a performance that the New York Times called "first-rate" and "one hell of a ride."
Other DC- and Baltimore-area performances include appearances with several local chamber ensembles and in sacred music performances including DC's Cathedral of St. Matthew the Apostle, the Metropolitan Baptist Church, and Alexandria's historic Old Presbyterian Meeting House. Orchestral tours have included Japan, England, Germany, and the Middle East. Close to home, Mr. Thulson appears within several of Northern Virginia's fine regional orchestras; engagements have included the Arlington Philharmonic, Constellation Theatre, Opera NOVA, the Manassas Ballet Theater Orchestra, the Pan American Symphony, and the Fairfax Symphony.
Outside the classical mainstream, Mr. Thulson has appeared behind artists including Stevie Wonder, Tye Tribbett, Michael W. Smith, Leon Lacey, Phil Keaggy, Dorinda Clark-Cole, Karen Clark-Sheard, Michael Card, Steven Curtis Chapman, Danny Oertli, and Keith and Kristyn Getty. He has recorded with artists including the Washington Performing Arts Men and Women of the Gospel Choir, David Kitchen, Pop Culture Strings, the N Street Quartet, and the Pan American Symphony Orchestra.
Mr. Thulson has held board seats for the Ars Nova Chamber Orchestra and the Arlington Philharmonic, and he maintains a private teaching practice in Alexandria with his wife, violinist Mary Thulson. As a coach and adjudicant, Mr. Thulson has worked with organizations including the American Youth Philharmonic Orchestras, the Arlington Philharmonic's Crescendo Youth Chamber Music program, the Rockville Competition for Piano and Strings, Arlington and Alexandria Public Schools, and the McLean School of Potomac, MD.
Mr. Thulson holds degrees from Wheaton College, where he studied with Dr. Daniel Davies, and the George Mason University School of Law. Other important influences have included Sharon Polifrone, Paul Primus, Barbara Hamilton, Jennifer Fouse, and Drs. Gregory Gentry, Paul Wiens, and William Culverhouse.