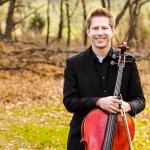 Photo by Britt Olsen-Ecker
Biography
Tim Thulson is a cellist from Denver, CO and Alexandria, VA, performing frequently in solo, chamber, and orchestral contexts both at home and abroad--from the Kennedy Center's stages to Japan, England, Germany, and the Middle East.
Recent solo work includes premieres of Armando Bayolo's "Buen Viaje" for unaccompanied cello and Nicholas White's "In Lege Domini."
Mr. Thulson serves as principal cello for the unconducted Ars Nova Chamber Orchestra, presenting both full orchestral programs and a wide variety of small-ensemble chamber works. Mr. Thulson also serves as the cellist for DC's contemporary classical-focused Great Noise Ensemble.
Other DC- and Baltimore-area performances include appearances with several local chamber ensembles and in a variety of sacred music concerts, from DC's Cathedral of St. Matthew the Apostle to Alexandria's historic Old Presbyterian Meeting House. Mr. Thulson has appeared behind artists including Stevie Wonder, Tye Tribbett, Michael W. Smith, and Keith and Kristyn Getty.
Mr. Thulson has held board seats for the Ars Nova Chamber Orchestra and the Arlington Philharmonic, and he maintains a private teaching studio in Alexandria. Mr. Thulson holds degrees from the George Mason University School of Law and from Wheaton College, where he studied with Dr. Daniel Davies.